CanyonLakeCalifornia.US
CanyonLakeCalifornia.US ... an informational domain website made possible in part by Maria Suttle at Prudential Canyon Lake Realty
---
Canyon Lake, California is a unique residential/recreational community located in the Southwest Riverside County area of Southern California.
---
Most of the City of Canyon Lake is comprised of the private gated residential community within the Canyon Lake Property Owner's Association. This private homeowner's association is oriented along the shores of a picturesque 383 acre lake, and the SCGA rated 18-hole golf course of the Canyon Lake Country Club.
---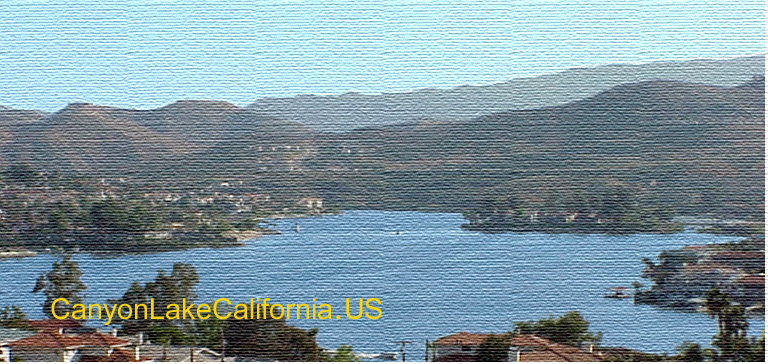 ---
One of California's smallest cities (population a little over 11,000). The residential community is a combination of "lakefront" properties - about 1,000 home sites along the lake's shoreline, and about 3,800 residential properties off the water. Throughout many of the various neighborhoods within the private association areas of Canyon Lake are a wide variety of parks, beaches, golf course fairways and specialized recreational areas such as the lighted lakeside tennis courts, the equestrian center, lakeside campgrounds and the Canyon Lake Lodge and swimming pool facilities.
Canyon Lake's major websites:
"The internet's main gate to Canyon Lake": www.Gate88.com
A website devoted to Canyon Lake and vicinity social network messages: www.CanyonLake101.com
Photos and Videos of Canyon Lake
Canyon Lake Information Directory: www.CanyonLake.org

Canyon Lake has a central location in Southern California's "inland empire". Approximately equal distance by freeway from Los Angeles, San Diego, and Palm Springs; the business, entertainment and recreational resources of any of Southern California's major communities can be part of a day's outing from Canyon Lake. But, with the amenities of Canyon Lake available, most residents prefer to spend their spare time in their own home town.
---
Thank you for visiting CanyonLakeCalifornia.US
---
There are several high quality weblinks throughout California's Southwest Riverside County area. Among the best are www.cityofcanyonlake.com, www.canyonlakepoa.com, www.canyonlake.org, www.gate88.com, www.canyonlakecalifornia.us, www.CanyonLake101.com, www.17mile.com, and www.bearcreekcalifornia.com. This website supports the ongoing effort to provide high quality internet information for all residents and visitors to the Southwest Riverside County area of Southern California.
---
This website is made possible in part by:
Maria Suttle, Realtor® ... California Dept of Real Estate License #00993453
Prudential Canyon Lake Realty